Social Media
Harness the power of the Internet and social networks to spread your message faster and farther than ever before. Especially when you integrate GiftTool's Pledge-a-thon service with social media. Your organization and its supporters can leverage social media networks, adding a viral element to your cause.
Never before has it been so easy to tap into a wider audience, raise awareness and attract new sources of funds and supporters. Here's what GiftTool's Pledge-a-thon when combined with social media can do for you: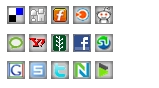 From Facebook to Twitter to StumbleUpon, each personal or team fundraising page includes social network icons to spread the word -at an unrivalled velocity- about your event, challenge or fundraiser.

Add a Facebook Like button and empower teams and individuals to promote their fundraising efforts. Each "Like" click sends the story to the user's friends' News Feed with a link back to the personal or team fundraising page.

A Google Plus button helps friends and family reach out, support and discuss a fundraising page with the world, or if they prefer, with a select group of friends.
Questions? Fill out the contact form, or call GiftTool at 1.877.665.8665 to set up a free demo.